Hybrid Dwarfs
These are the result of breeding Campbells Dwarfs and Winter White Dwarfs together. In certain nations this is acceptable, in others it isn't. I feel Hybrid Dwarfs are basically mutts - lovable but no real value. I will not knowingly breed or create Hybrid Dwarfs. These are here only for informational purposes. The beautiful group below

are all Hybrid Dwarfs. Left
to right

: Normal Pearl, Sapphire, Mandarin Pearl, Mandarin.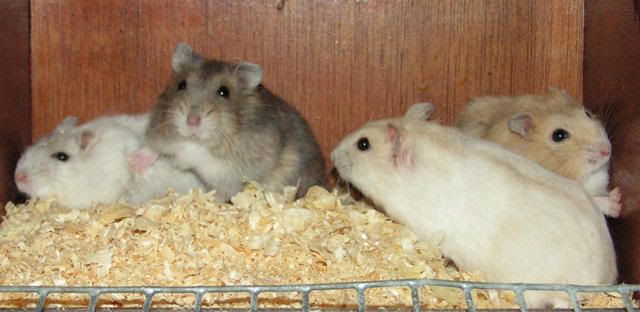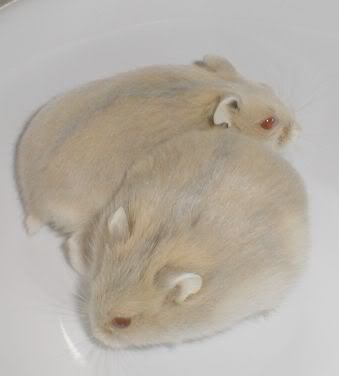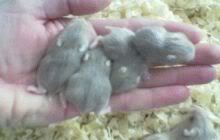 Initially these were introduced as Winter White Dwarfs. They change to white in the winter. All Orange pictures are courtesy of Covent Gardens Hamstery.
Orange Dwarfs changing into their winter coat.
Brown is a new color gene and as yet has no designator. Pictured to the left is a litter of Hybrid Dwarfs with a brown to the far left
. Pictured to the right is a brown (top

) and mushroom (bottom

). Problems: top

hamster has a genetic head tilt and the lower

one is missing it's back right leg - also genetic.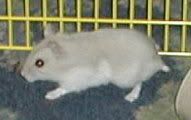 Mushroom is brown and Sapphire/Opal combined.
Here is a trio of Mandarins. On the left
is a Pearl. There were black eyed and red eyed mandarins produced in this group.
This is a gene that was originally thought to be pure Campbells Dwarf but has turned out to be a Hybrid Dwarf. It causes diluting of all colors.
Long haired Black variety bred in Holland.